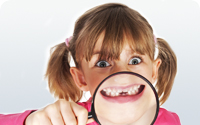 Here at our Hobsonville Point Dental practice, we have our resident/ in-house dental hygienist and dental therapist Waronga Etiabari
As a dental therapist, Waronga provides children and adolescents (up to their 18th birthday) with routine dental care, while also offering preventative plans and treatments for adults. In addition to providing routine treatment and prevention work, she advises patients in oral health, hygiene and the prevention of oral diseases.
In addition, be being our dental therapist, Waronga is also a Dental Benefits Practitioner.This means that your child whilst at secondary school and up to their 18th birthday can receive most dental procedures for free.

DENTISTRY FOR ADOLESCENTS - New Zealand residents only
Waronga our dental therapist provides free dental treatment through the government dental benefit scheme. Although many dentists feel this service is not financially rewarding for their practice, Waronga believes it is important for the younger generation to look after their teeth and it is a great community service.
For New Zealand children and teenagers up to 18yrs the government provides free basic dental care.
As a dental therapist Waronga is able to provide dental examinations, fissure sealants, fillings, extraction of baby teeth, pulpotomys and stainless steel crowns on baby teeth. Any treatment outside of her scope of practice will be referred to our dentists Andrea Clarke & Tristan Barker.
SPECIAL DENTAL BENEFITS
Waronga is also able to offer free care for special dental benefits when a referral from a school dental nurse is provided. She also provides free care for emergency treatments outside the hours of the school dental clinic.
ADOLESCENT DENTAL CARE
Free basic dental care is available for adolescents from Year 9 until their 18th birthday.
ENROLLING MY CHILD
If you would like your child to be enrolled please give us a call on 09 320 0504. You will need to complete and sign an enrolment form.To discover what options are available to you and your children from our dental therapist or hygienist, contact us here at Hobsonville Point Dental.