Are You Missing A Tooth?
Are you considering replacing a tooth that cannot be saved, or a tooth or teeth that are missing? If so, depending on your circumstances, Hobsonville Point Dental has 3 dental treatment options available to you to bring back your smile.

Missing teeth: Treatment Options
Option 1: Removable Partial Denture
There are a wide range of dentures available - from a low cost acrylic denture (plastic with a false tooth), to a substantially smaller discrete flexible partial denture made from a flexible material called Valaplast, to a metal framed denture with pink gum coloured plastic/acrylic and teeth made from either Chrome Cobalt or Titanium. This denture can be retaiened with either metal clasps or with precision attachments that click into purpose made dental crowns or caps.

Acrylic Partial Denture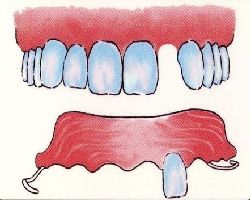 A simple, easy, affordable solution is a budget acrylic denture that can be fabricated by our dentists and offered as a replacement for a missing tooth. This denture type is essentially an orthodontic retainer with a false tooth or teeth and (sometimes) wire clips to secure it in your mouth. Simple to care for and maintain, budget dentures provides an easy shorter term (and sometimes a permanent) solution to the issue of gaps in the mouth due to a missing tooth or teeth.
Although many patients are concerned about and find some initial difficulties speaking clearly with a denture, over time and with practice and as you get used to your denture your speech will improve. Lower costs acrylic dentures are chosen by many patients as a mid-term solution, before later replacing the missing tooth with a more permanent false tooth eg a dental implant or bridge).
Valplast Denture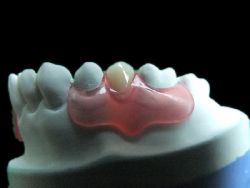 These small, flexible dentures can also be fabricated quickly and are often preferred as a mid-term alternative to a budget acrylic denture for many patients who require a discrete, yet secure appliance. The flexible nature of the pink valpast means small pink valplast clasps can stretch over the most bulbous part of a tooth making for a firmer fitting better retained denture.
Titanium or chrome Cobalt Denture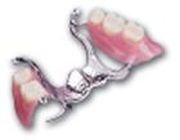 Either metal framework Titanium (without precision attachments or with) or Chrome Cobalt dentures are a superior long-term solution to plastic partial dentures because they are thinner and with because less surface area of gum is covered are a healthier alternative. Dentures rely on support by remaining teeth in the jaw (for partial dentures) and from mechanical support by the remaining ridge of gum and underlying bone
Option 2: Fixed porcelain bridge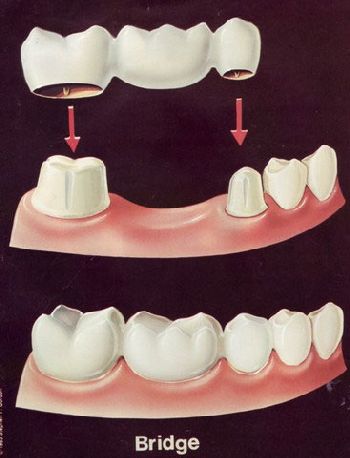 Missing teeth can also be replaced with a fixed bridge (if the surrounding area has an adequate number of healthy and strong teeth). These bridges are made from either porcelain or metal fused to a porcelain. On either side of the missing tooth, the healthy teeth are prepared for crowning. Our North Shore dental technicians then fabricate the bridge. A dental bridge consists of one or more porcelain teeth replacing the missing tooth or teeth, attached to one or more dental crowns. These dental crowns are cemented to teeth adjacent to the missing tooth and are designed to be a long term fixed solution for a missing tooth.
The advantages of this procedure are many. The porcelain prosthetic tooth is stable, in addition, to it feeling and looking much like your own natural teeth. However, an important consideration to be made is the irreversible preparation and treatment on the two adjacent teeth that may not have required any work prior to the required crowns.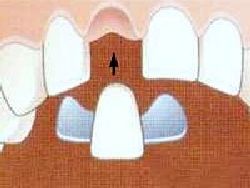 The final bridge option is a Maryland Bridge – so named for the University of Maryland, where the technique was first developed. The Maryland Bridge is the most affordable option to replace a missing tooth and consists of a porcelain tooth attached to a metal wing or wings. This wing or wings are bonded on either side of the missing tooth to the inner surfaces of the adjacent healthy teeth.
Although more affordable, there is a periodic replacement cost as they do not tend to last as long as conventional bridges.
Option 3 - Dental Implant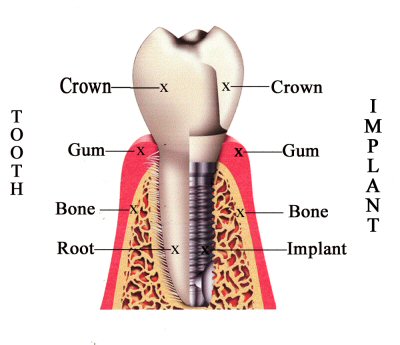 Dental implants replace the tooth root with a surgical grade titanium screw onto which either dental crowns or bridgework can be constructed to provide a natural looking alternative for a missing tooth or teeth.
Dental Implants
Are a replacement for a single tooth (or multiple teeth) without any additional treatment or trauma to adjacent teeth.
Are an anchor or support to dental bridges
Are an alternative to a partial denture
Help secure or support upper or lower dentures using special attachments enabling the denture to click into place
Provide our patients with increased confidence and freedom from the confines of missing teeth, resolving an unsightly gap in your smile or the limitation of a denture and enabling you to eat or speak as though you had never lost a tooth. With an appropriate maintenance program Dental Implants have an excellent success rate and can last a lifetime.